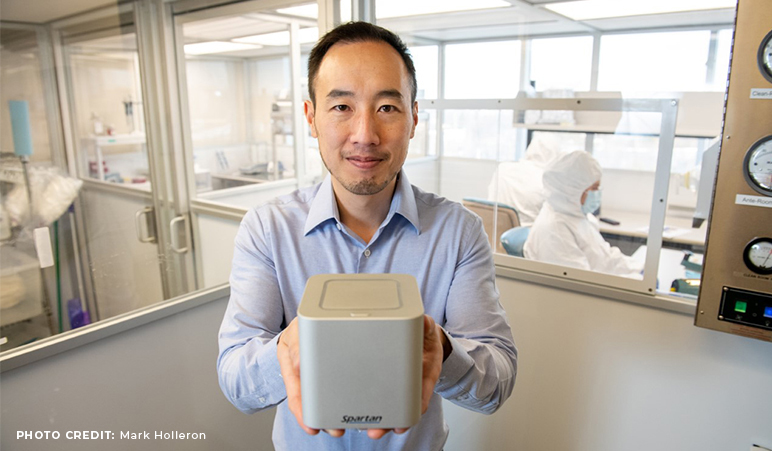 From Shad to leading the development of a groundbreaking COVID-19 test
| July 3, 2020
Shad Stories
Categories:
The period between getting tested for COVID-19 and receiving results is riddled with uncertainty. It can take days to receive a diagnosis, leaving room to unknowingly spread it to others or even be exposed when you weren't positive in the first place.
Over the past few months, an Ottawa-based company made headlines for a test that will eliminate this uncertainty. A test that secured multi-million-dollar contracts with the federal government, as well as several provincial governments. A test that can yield test results in under an hour.
Paul Lem is the CEO and founder of Spartan Bioscience, which is Canada's only portable, DNA analyzer company.
"Most of the kids that I went to Shad with, we all wanted to change the world…," says Paul, Shad1994. "I feel really fortunate that I'm in the position where I can do that."
The test uses the company's proprietary device known as the Spartan Cube—the world's smallest DNA analyzer, about the same size as a coffee cup.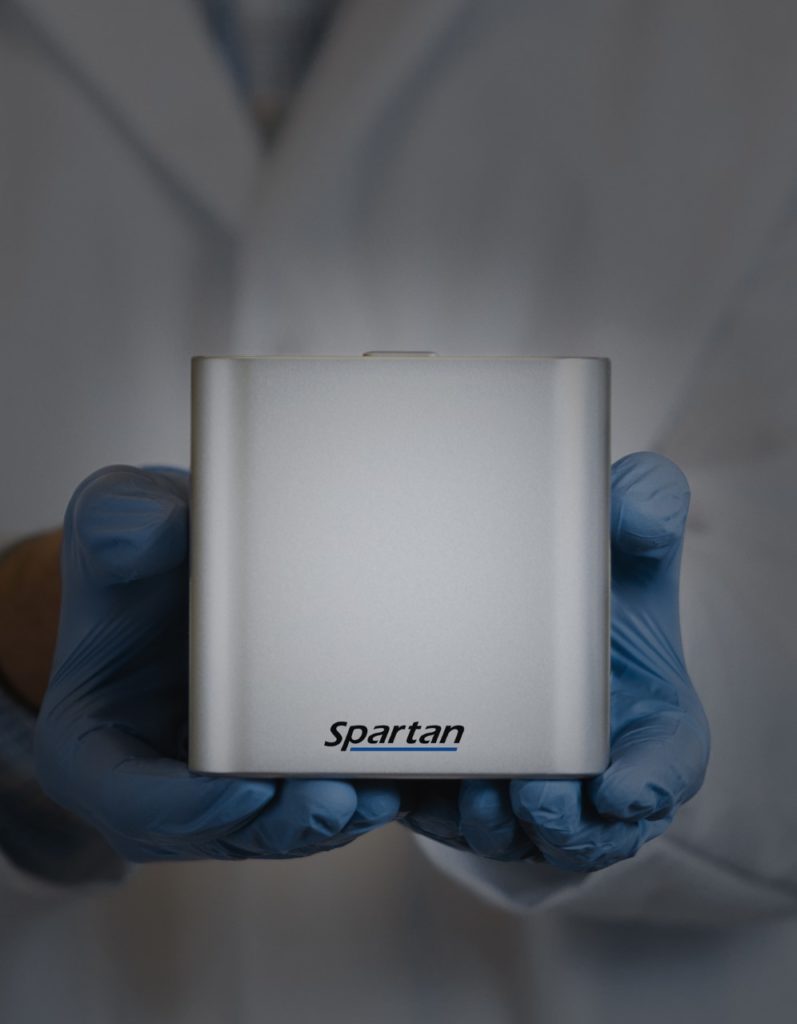 "DNA Diagnostics have become the gold standard of medicine because it's the fastest and most accurate way to diagnose basically any disease."
The Spartan Cube eliminates the need to send a sample to a lab, which is a much-needed solution for rural and remote communities in Canada.
"You can imagine this little cube will be in Timmins, it will be used by a nurse who will collect that sample and test it immediately and you will get results right away," says Paul. "Then if you are infectious, you can self-quarantine."
It was only in March when Spartan Bioscience began looking at how their pre-existing technology could be used to detect COVID-19. In April, they gained approval from Health Canada to ship their tests to federal and provincial partners.
They've since been contacted by Health Canada about their swabs ability to collect enough material for a test, and voluntarily recalled their product in May.
"We will have a solution soon and be back on the market."
Spartan Bioscience's technology has been deployed throughout the world, working with the U.S. Centers for Disease Control and Prevention and the New York State Department of Health to detect Legionella in human-made water systems. The Spartan Cube can also perform precision medicine tests for antiplatelet therapy.
"Now our goal is to leverage those initial wins, and eventually create a test menu of dozens, and eventually hundreds of tests that will all run on the same box."
Paul developed this vision of rapid, DNA testing during his time as a doctor.
"What I found frustrating when I was a doctor was it would take so long to get results back… I thought one day these machines there would be a small version of it where people could just run it themselves, kind of like glucose readers and tests. They started off like big machines."
He never imagined himself in biotechnology engineering. Growing up, he really just wanted to be an inventor.
"I remember my dad telling me it was great that I wanted to be an inventor, but he said that most inventors starve."
From a young age, he exercised his curiosity about engineering and science at the Canada-Wide Science Fair and at Shad—where he remembers watching lectures from inspiring individuals, like Canadian astronaut, Bjarni Tryggvason.
"You get to meet people like that, who've been in space, and it makes you realize that they did it. They tell you their story and then you're like, I can do that too. It inspires you to reach beyond what you may have thought possible."
He often returns back to Shad to deliver his own lecture to a classroom full of Shads, who like him, were excited to tap into someone else's story.
"There's not even that much that separates where I am now or where a Shad is in high school. It's just years, you put in the time," says Paul. "You practice, you fail, you keep trying, and then you get encouragement from your friends and groups like Shad. Eventually, you often breakthrough if you're willing to be persistent."