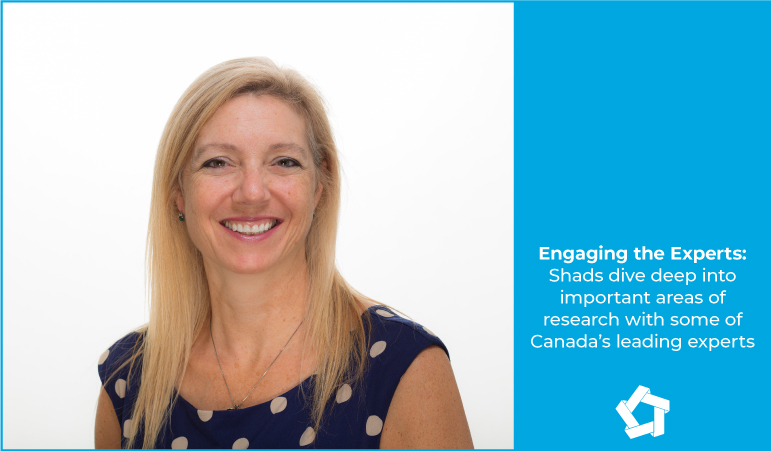 Engaging the Experts: Shads dive deep into important areas of research with some of Canada's leading experts
| July 21, 2023
Shad Stories
Categories:
Shad is not only a place where future leaders are challenged to solve real-world problems; it's also where they gain some of the tools and knowledge needed to do so. This means introducing them to some of Canada's leading researchers, those who spend their days working on solving the kinds of problems the Shads have been asked to tackle.
In weeks 2 and 3 at ShadAnywhere, the Shads were introduced to researchers from the National Research Council of Canada (NRC) whose expertise relates directly to this year's design challenge. The NRC is dedicated to the advancement of cutting-edge science and technology research and development, providing the Shads with the opportunity to engage with novel ideas and advanced understanding of important areas of research.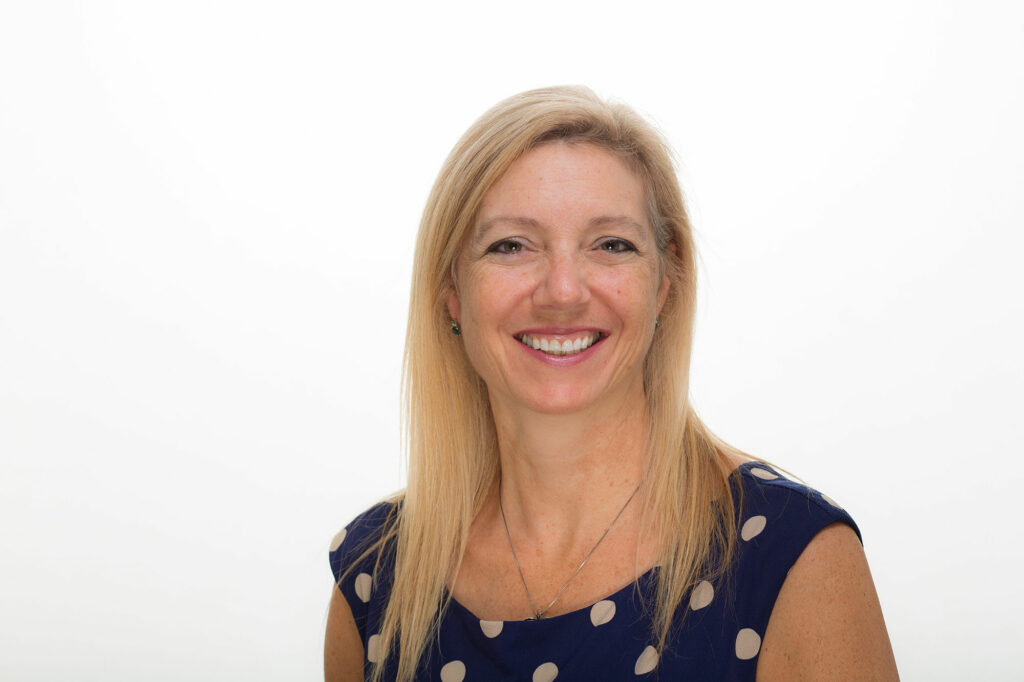 The Shads heard from Dr. Helene Roche, a practiced Engineer who has been an Evaluation Officer at the Canadian Construction Material Center for the past 18 years. She brought a wealth of knowledge regarding The National Building Code of Canada and how the CCMC (Canadian Construction Materials Center) supports the industry and advances innovation in Canada, important information that will help to inform the Shads' design projects.
The discussion began with the basic functions of the CCMC, which guides what happens behind the scenes before construction projects begin. The Shads learned how products and materials are evaluated to meet Canada's building codes, and the kinds of materials used in construction in Canada, including a deep dive into the difference between materials deemed acceptable solutions (products that meets an existing standard in the building code) and those deemed alternative solutions (products that do not meet a recognized standard in the building code).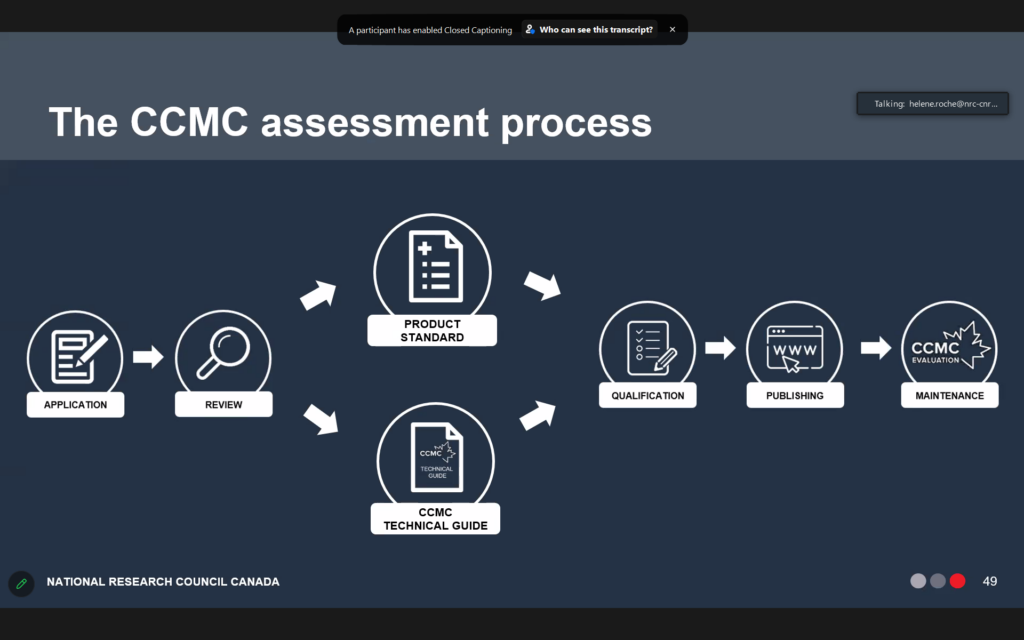 Evaluating alternative solutions is where the CCMC gets innovative! As Canada works to build using more sustainable materials that are equipped to deal with the consequences of our changing climate, the researchers and engineers at the CCMC are tasked with evaluating, testing, and creating guidelines that ensure these materials are effective and used appropriately. This is not only important for the safety of those living in Canada, but it creates an environment in which we can adapt effectively to the changing social and environmental needs of the country.
Dr. Roche noted how "our environment is changing drastically, and we're experiencing the effects of that now", referencing the current increase in forest fires as a real-life example, which changes how buildings are constructed in cities. She cited a recently adopted requirement in the city of Calgary that was introduced after a housing development in the city burned down because of a forest fire. It exposed a weakness in the building code that left homes vulnerable to the rapid spread of flames, which prompted an adjustment to the code to better protect future homes from such environmental impacts. The NRC has been building a research database predicting climate stresses for different situations across Canada's various regions, studying how this will affect current building standards and materials. This will be used to inform future updates to Canada's building codes to make sure our infrastructure is climate resilient.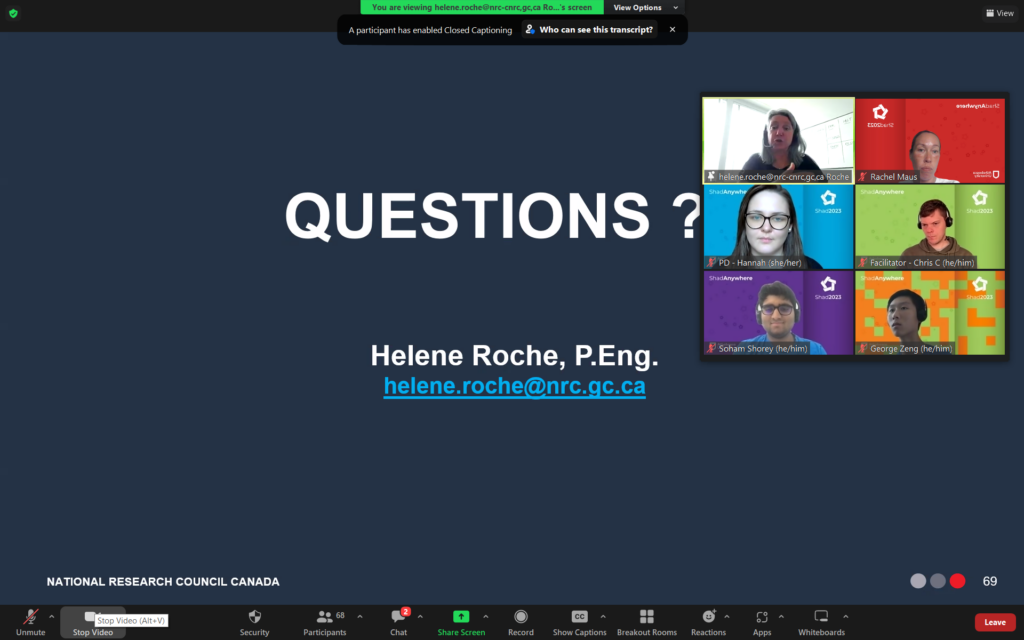 This got the Shads thinking and sparked some clever follow up questions!
"What are your thoughts on new building methods, like prefabricated and modular housing? How might their use affect access to housing, and do they present any safety issues as we continue to grapple with the effects of climate change" asked Omid, a Shad from Toronto, Ontario.
According to Dr. Roche, these types of housing have to meet the same standards as are set out for more traditional building methods, and because they are built over and over again, a skilled trade is developed that contributes to the safety of the units. Their ability to be built quickly also means more houses over a shorter time period. This answer prompted an excited discussion on other engineering innovations that might help to increase housing accessibility and sustainability, like the recycling and reusing of construction waste.
As the lecture drew to a close, the Shads reluctantly ended a discussion that involved some serious thinking about the future of sustainable building in Canada. "That was so informative!" exclaimed Noor from Pickering, Ontario.
Having taken full advantage of the opportunity to talk with an industry expert, there's no doubt the Shads left with a better understanding of what they'll be considering as they continue to develop and fine tune their own solutions to the challenges affecting Canada's living spaces.