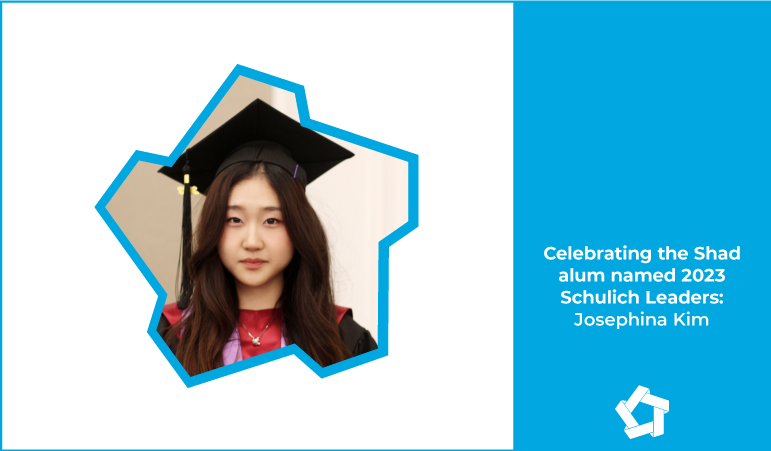 Celebrating the Shad alum named 2023 Schulich Leaders – Josephina Kim
| July 14, 2023
Shad Stories
Categories:
Q: How does it feel to be named a Schulich Leader?
It honestly feels unbelievable. I am so grateful to have the opportunity to study and innovate as a Schulich Leader. Becoming a part of this community has allowed me and will allow me to learn from so many talented people and develop meaningful relationships. This experience has also proven to me that hard work will be recognized. The Schulich Leader Scholarship shows that by working diligently toward your passions you open new opportunities for your future self. I am so excited to see where my journey as a Schulich Leader will take me. 
Q: What motivates your passion for STEAM/Entrepreneurship?
My motivation for STEAM/Entrepreneurship lies in my passion for solving problems. Whether it be improving customer communication for small businesses, solving environmental issues on campus, or improving accessibility in local communities, using STEAM tools to find innovative solutions to these issues brings me thrill and the motivation to discover. I hope to use this mindset to tackle a plethora of different problems going forward. 
Q: At Shad we are leaders in social innovation, how do you plan to use #STEAM4Good?
Aligning with my passion for STEAM/Entrepreneurship, I plan to use #STEAM4Good by solving different social issues. As I study and broaden my skill set going forward, I would like to focus on using technology to develop systems that are easily accessible to everyone. For example, at SHAD Waterloo we prototyped an app that would improve accessibility for those with physical impairments on campus. I would like to work on similar projects that help different groups of people going forward. 
Q: What lessons would you share with incoming SHADS?
I would tell incoming SHADS to focus on discovering new things and to take advantage of all opportunities. It is completely normal not to know what your specific passion is yet, but by exploring various areas you'll be able to discover what interests you and how you can make an impact.