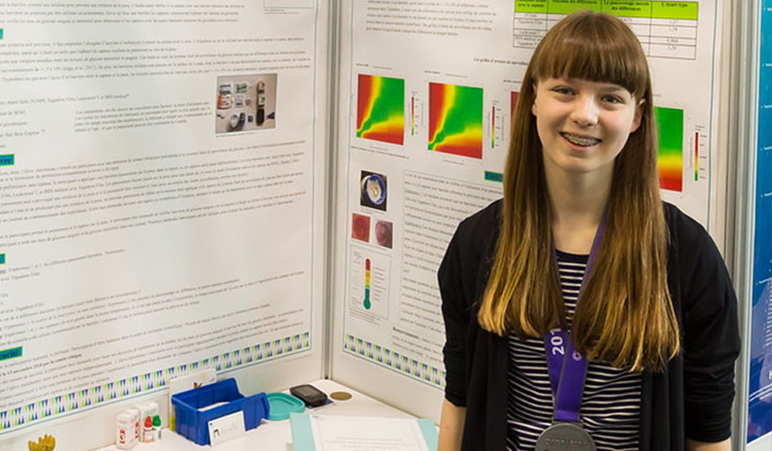 Canada-Wide Science Fair scholarship winner shares passion for STEAM
| May 24, 2019
Shad Stories
Categories:
Last week's Canada-Wide Science Fair was yet another reminder of how students across Canada are inspiring others with STEAM. We awarded three amazing finalists with scholarships to attend Shad 2020: Amy Gudmundson, Tamara Chisholm, and Penelope Armstrong. Amy took some time to answer questions about her project, interests and excitement for Shad!
Amy Gudmundson
Q: Tell us a bit about yourself:
A: My name is Amy Gudmundson, I'm in ninth grade at École Jours de Plaine, in Laurier Manitoba. I live 15 minutes away from my school in the town of Ste. Rose du Lac. I really love all STEAM fields, and I do science fair projects, robotics, and coding during my spare time. I also figure skate and participate in various leadership activities in my community!
Q: Have you been to the Canada-Wide Science Fair before?
A: Yes, this is my second time at the Canada-Wide Science Fair. I previously did a project on vermicomposting, which won a Junior Excellence Award (Gold Medal) last year.
Q: What is your project?
A: My project is about a flash glucose monitoring system, a new system approved by Health Canada in 2017 for people with diabetes. With my experiments, I evaluated whether a barrier between the sensor of the system and the skin could prevent allergic contact dermatitis, and whether the addition of a barrier affects interstitial glucose readings.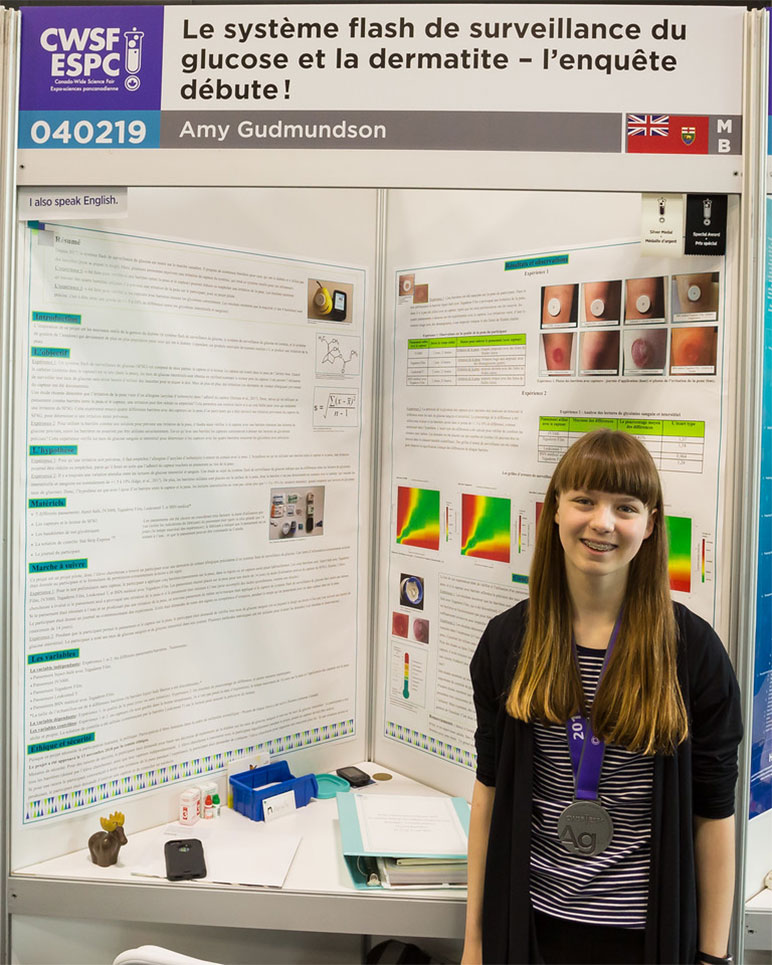 Q: How did you come up with the idea?
A: I had the idea for my project from people with diabetes in my community. They used a flash glucose monitoring system and enjoyed the numerous benefits from this product, which has improved their diabetes management. Later, they developed a skin irritation from the sensor, which renders this product useless! I wondered whether the use of a barrier could be a cost-effective solution to this problem. After further research, I found almost no studies on this topic, so I decided to investigate further!
Q: What is the real-world issue it helps solve?
A: Diabetes is a worldwide disease, and there are new diabetes products being introduced, that have many benefits for the users. My project investigates one of the biggest disadvantages of this product, so that people who are getting allergic contact dermatitis might be able to use this product as part of their daily life, making these products accessible for more people. This can also help limit the serious complications that can arise from diabetes.
Q: How will you bring this momentum to Shad?
A: I think I can bring the momentum of CWSF to Shad with my enthusiasm, energy and my positive attitude! I also think I can really contribute to the Shad community with my perseverance and determination when faced with a challenge.
Q: What will you do between now and Shad 2020?
A: Between now and Shad 2020, I will be continuing figure skating and working to become a CanSkate coach (a national learn to skate program). I will also pursue re-election to the position of president of my school's student council. I would like to continue to contribute to my divisionary leadership program, Jeunes Manitobains des Communautés Associées (JMCA). I am also taking a coding class next year, the first ever coding and robotics class offered at my school! I also plan to continue doing music lessons, playing the trumpet, piano and the bass guitar.
Q: What does your ideal future look like?
A: My ideal future would be continuing to learn in STEAM throughout my life and becoming a female role model in those areas! I am also very passionate about our environment, and I am concerned about our climate. I want to contribute towards solutions to solve this ongoing issue, making a positive change in our world.