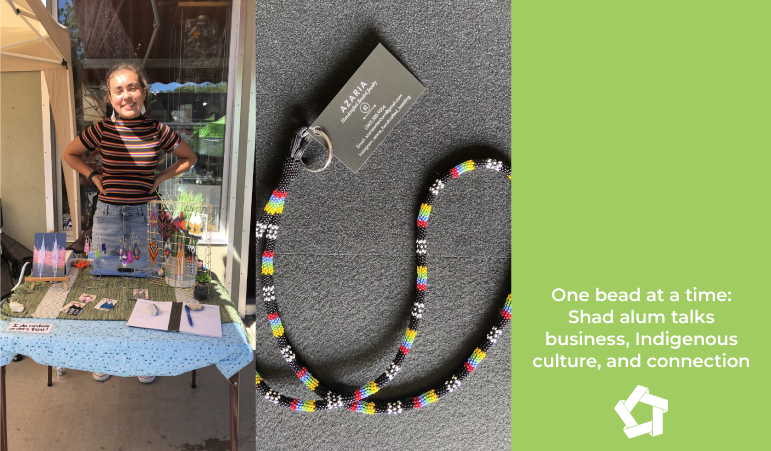 One bead at a time: Shad alum talks business, Indigenous culture, and connection
| September 16, 2021
Shad Stories
Categories:
Shad2021 Azaria is known for her jewelry. In fact, you may not recognize her without it.
At any moment, you can almost guarantee she's donning one of her intricate creations-full of vibrant, handpicked beads with a story to tell.
Even during Shad, Azaria was inseparable from her jewelry. Her beading tray nearby, she continued creating and doing what she loves during downtime and quiet moments with friends.
"It's a very emotional release for me. When I do it, every worry in the world disappears. I can just focus and have total peace," says Azaria.
But she isn't the only one wearing her beautiful pieces-earrings, pins, and other handcrafted jewelry alike.
Azaria Handcrafted Beaded Jewelry has clientele across Canada-and beyond-extending well past the borders of her home province of Saskatchewan.
"Ever since I was younger, I always loved doing art and anything really creative," says Azaria.
Azaria and her mom took water colour classes once a week together for about six years, gradually improving with every stroke and dip of the paint brush.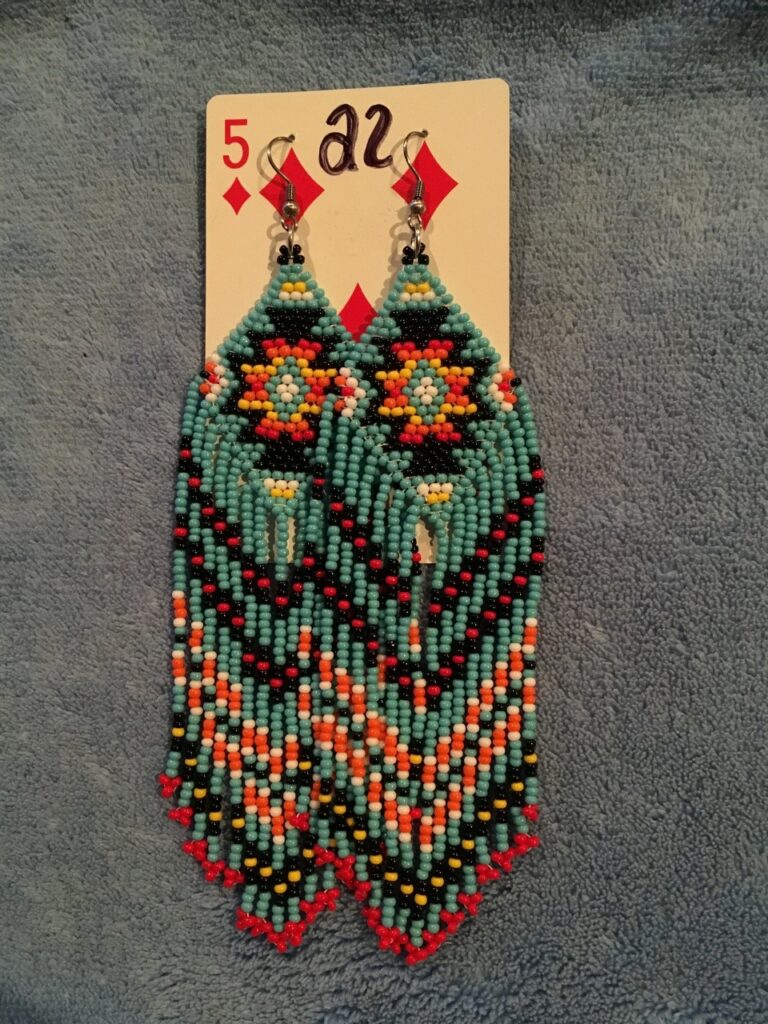 But it wasn't until 2018 that Azaria got into beading, her mom bringing up the idea after seeing beads for sale online.
"It instantly reminded me of earrings that I'd seen at Powwows before," says Azaria. "And I was like, 'I've got to learn how to make those because it's so cool.'" Over the years, she's extended her offering and used her talents to make a positive impact. This year she's raised approximately $500 with her poppy, orange shirt and red dress pin sales.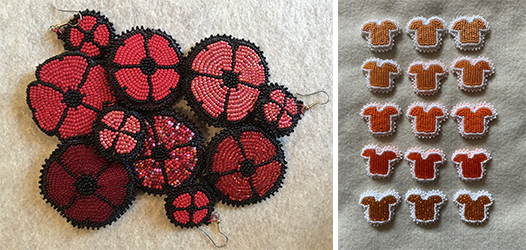 But for Azaria, beading isn't just about giving back and getting creative. It's a way she connects to her culture.
"I was really passionate about being First Nations and I was so proud of it…," says Azaria. "I took it upon myself to teach myself how to do beading and since then it's really snowballed into so many different opportunities of learning about my culture."
On top of meeting Elders in her community and working to gain the traditional knowledge lost in her family, she recently experienced a sweat-lodge ceremony and went sage picking outside of the city.
"The people I've met, other knowledge keepers are attracted to what I'm doing because they've noticed that it's something that I want to learn. They've connected me with other people which led to Pathways, which is the group that I'm in, which led me to Shad. My business led me to Shad really."
The Pathways to Education Program provides academic, financial, social and other one-on-one supports for high school students across Canada. Azaria found out about the program from a friend, who said the organization could connect her to Elders and help with her budding business.
"They're a really big support system for me, just inspiring me to keep going and exceling in what I'm doing. I always tell them about my successes."
This year, Azaria heard from a guest speaker who shared her Shad experience with Pathway students.
"She mentioned how she still has really strong relationships with the people that she met there. When she was explaining the program, it sounded very entrepreneurial to me. So, I was like maybe I could learn a tip or two that I could incorporate in my own business."
Knowing she wouldn't get the chance to attend Shad after graduating high school, Azaria applied, receiving a bursary through Pathways to Education.
"I'm a sucker for opportunities. I absolutely love them. One door leads to three more which leads on and on and on. It grows from there."
During the program, Azaria remembers a session at her Shad Laurentian campus with Ryan Benoit, a Canadian entrepreneur born with cerebral palsy. His clothing brand, The Positive Inception, aims to foster positivity and encourage others to chase their dreams.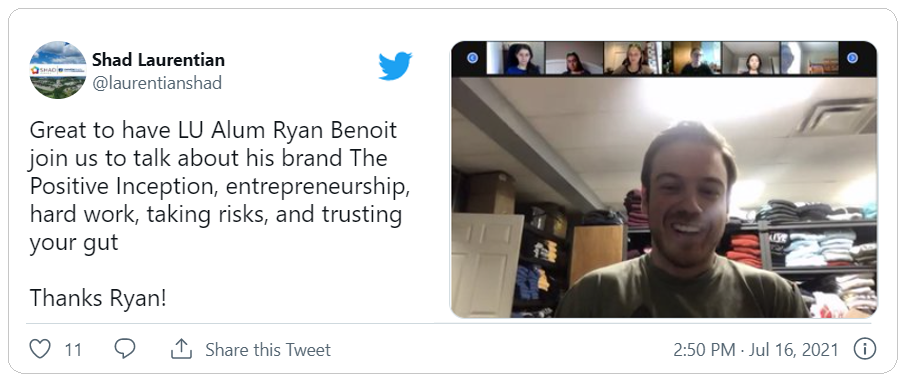 "It was really inspiring hearing from him because he lived through growing his business and all of the difficulties," says Azaria.
On top of hearing from speakers and entrepreneurs, Azaria developed friendships with students from east coast to west. "If you ever go anywhere, you might know somebody that lives there, and you'll have a connection."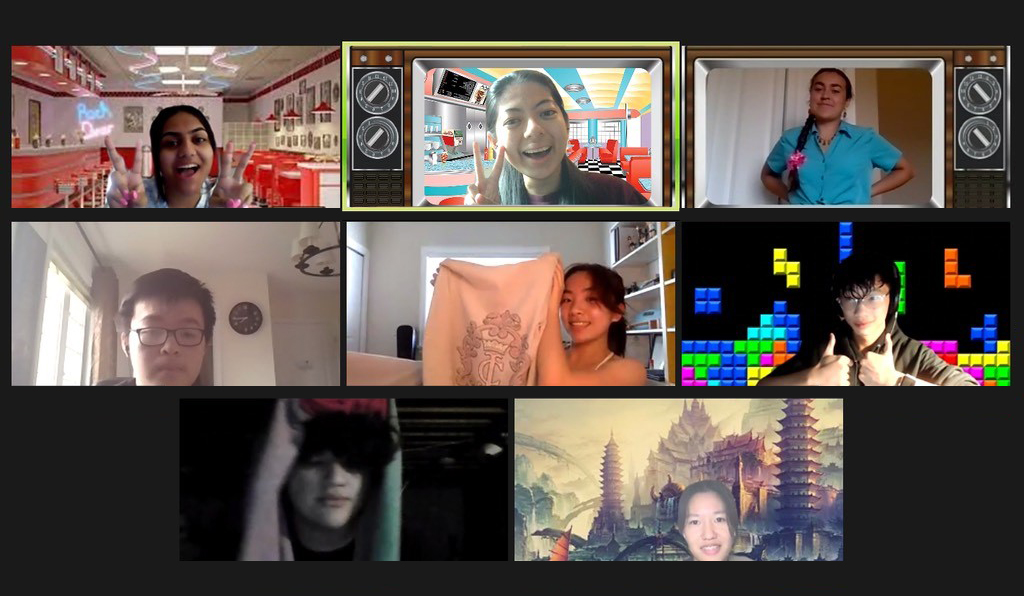 From watching her first YouTube tutorial on beading to securing a contract with the RCMP Heritage Fair, the strength of community and connection has accompanied Azaria throughout her entrepreneurial journey.
"The people in my community are really appreciative of the fact that I am proud to be First Nations and I'm trying to regain back the knowledge that my ancestors might have known…," says Azaria. "How inspired they are of me makes me more inspired to keep going. Without the people around me, it probably wouldn't have grown into something as big because I would have lost motivation."
Just one week after she began making earrings, Azaria visited a bead store to stock-up on supplies. To her surprise, the owner complimented Azaria's pair and asked if she could sell her jewelry in the store. "She gave me many opportunities to grow my business and to grow a clientele," says Azaria.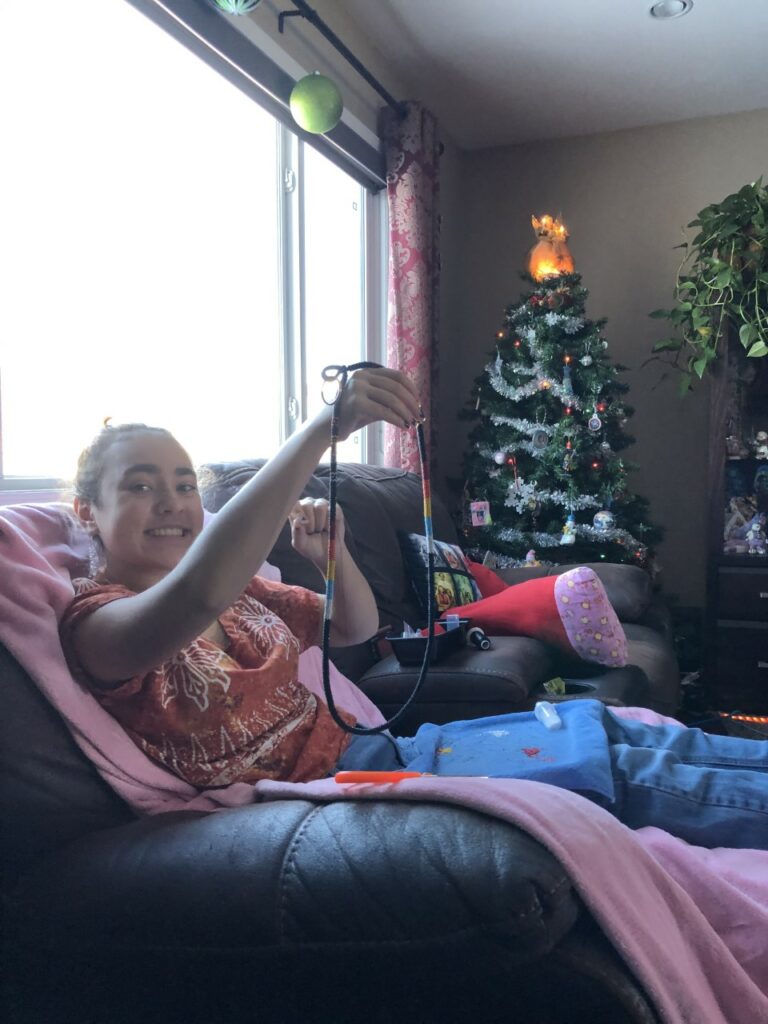 One of these opportunities was her first street fair, where Azaria set-up a small booth full of earrings. Beside the beads and rainbows of colours, she left a guest book out for fairgoers to sign and was floored by the scribbles and messages from strangers walking by.
"They just had really nice things to say and they were from all over the world. There was writing that I couldn't even read because it was in a foreign language."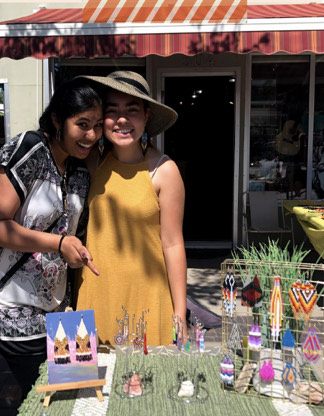 Her parents have also been a huge support system, providing marketing, business, and networking advice along the way. A family friend also lent his support, passing on his own collection of beads and pattern books that helped her learn different stitches and techniques.
"It took a lot of trial and error at the beginning. But it was just practice over time and it snowballed into what it is today."
Through building her business, she's learned a lot about management, organization, customer service, financials, and more. She's also harnessed the power of social media, selling her designs on Instagram by posting images of pieces available for purchase.
In the future, Azaria hopes to pursue an undergraduate degree in science. Right now, she has a particular interest in biology and genetics.
"Biology is all around you. It's everything. It's really cool learning different facts and appreciation for the world you live in. Without biology, we wouldn't even be here. It's really the base to life, which I find so cool."
But Azaria says beading will always stay with her as a passion project or side business like it is right now; a part of her identity no matter where her journey takes her.