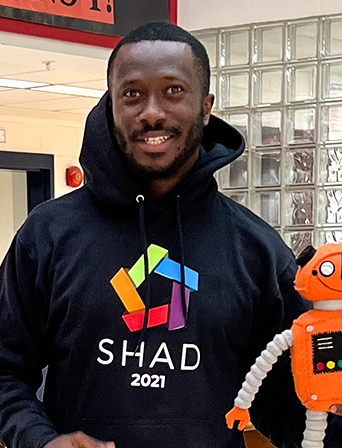 Kenneth Martyns-Yellowe
Eastern Recruitment Specialist
As the East Coast Recruiter, Kenneth supports Marketing and Communications to attract students into Shad's programs. He coordinates, implements and delivers recruitment demonstartions at teachers' conventions, high schools, and public STEM events, both digitally and in-person.
Kenneth believes that Shad brings together a diversity of thoughts which provide participants with a real opportunity to attain a multidimensional outlook on their environment in a rapidly changing world.
Kenneth is a graduate of Dalhousie University where he completed his BSc in Earth Science and an MSc in Earth and Environmental Science. Through his academic commitments, he has been actively involved in lab research, writing technical documentations, presenting his research at various conferences, and mentoring other students. In addition, he has been actively involved in innovative initiatives including being a group facilitator for the Shad Canada online program in 2021, the entrepreneurial LaunchDal program and recently the Invention to Innovation i2I program through the Beedie Business School at Simon Fraser University, Canada.
Kenneth is enthusiastic about finding solutions, being adaptable and building a functional network. He also has a passion for inspiring youths and is committed to learning, service and continual self-improvement. You can engage with Kenneth about rocks (earth science/ geology), sports (particularly soccer), history and other current affairs.