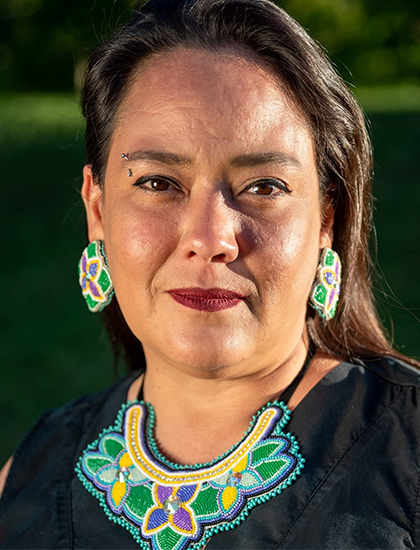 Amy Smoke
Indigenous Initiatives
Amy's role in Indigenous Initiatives at Shad is to help further engage with First Nations, Metis, and Inuit communities and youth across Canada while providing an understanding of Reconciliation, Indigenization, and Decolonization efforts within this country.
Shad can help prepare Indigenous youth for the university experience while gaining a meaningful STEM experience that might one day benefit their whole community. Amy is fueled by her passion to see First Nations, Metis, and Inuit youth further their education and open their world to new possibilities.
Amy Smoke is Mohawk Nation, Turtle Clan from the Six Nations of the Grand River. Amy is a 2 Spirit mother, public speaker, community organizer, and singer. They have graduated from Conestoga College General Arts & Science, University of Waterloo with a BA and BSW, as well as Wilfrid Laurier University with a Masters in Indigenous Social Work. Amy is one of the founding members of the Blue Sky Singers and is an active community member here in Kitchener-Waterloo.
Amy spends much of their time on social justice community organizing and public speaking in order to make visible Indigenous women, girls, and Two Spirit. Having sat on various Indigenous Advisory Boards in the local community Amy hopes to bring more First Nations, Metis, and Inuit education to organizations on the Haldimand Tract today.